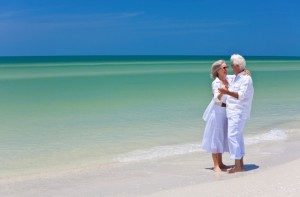 The Kingdom of Thailand is a beautiful country with its white sand beaches, green mountains and warm weather. Most foreigners who come to Thailand fall in love with  the country, culture and food. Because of these they want to settle and retire in the Kingdom.
Thailand is a good place to retire. The people are hospitable and the cost of living is low that you  can maintain a comfortable lifestyle without spending a lot of money.
If you are at least fifty years old and you can meet the financial requirements then you are qualified for a Thailand Retirement Visa. This Retirement Visa is good for one year and can be renewed without leaving Thailand. You can also travel outside the country if you want but you have to secure a re-entry permit.
With the Retirement Visa you need to report your address at the nearest immigration office every ninety days. This ninety-day reporting will let the immigration officers know that you are safe at the location you are staying. When the time has come to renew your Retirement Visa make sure that you renew it one week before it expires.
It is not complicated to process the One Year Retirement Visa in Thailand. You do not need to show the Medical Certificate and the Criminal Certificate.
Requirements to obtain a Retirement Visa
Must be 50 years of age or older.
Must be able to show your financial evidence between:

Bank account showing THB 800,000 (must be able to show the evidence of transfer the money to your Thai Bank account and this sum of money must be deposited in your bank account at least 2 months); OR
Monthly income/pension of at least THB 65,000 (must present a letter from your embassy to prove the pension and the letter from the government or social security).
Visa Application Procedure
Thai 90-day Non Immigrant Visa from the Thai embassy in your home country to enter Thailand. We will provide the documents that you need for this visa application. The whole process will take 5 business days.
We will help you open a bank account in Thailand in your name so that you can transfer at least 800,000 Baht into this account. After 2 months, we need to get a letter from this bank.
We can also help you get the letter confirming your income from your embassy in Bangkok.
You can travel around Thailand because the immigration will accept your retirement application on the last 21 days of your 90 days Non-Immigrant visa. Therefore, you will have to visit us again once you have a minimum of 30 days left on your 90-day Non-Immigrant 'O' Visa.
To proceed with the conversion of your 90 days Non Immigrant Visa to  Retirement Visa, our Thai Visa specialist will accompany you to the Immigration office for processing. You can obtain the One Year Retirement Visa within a day.