Visa Exemption in Thailand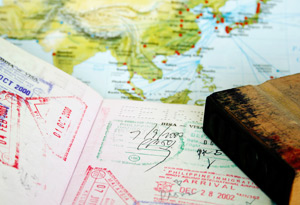 Visa exemption must not be confused with visa on arrival. There are 21 countries whose nationals may apply for a visa on arrival at the airport.
The visa on arrival will allow these nationalities a 15-day permit to stay in Thailand upon arrival at the designated ports of entry. These countries are the following: Bhutan, China, Cyprus, Estonia, India, Kazakhstan, Latvia, Lithuania, Maldives, Mauritius, Russia, Saudi Arabia, Uzbekistan, Taiwan, Ethiopia, Bulgaria, Romania, Malta. Andorra and San Marino. Foreign travelers who wish to obtain a visa on arrival must be in possession of passport valid for at least 6 months from date of entry, confirmed travel itinerary and proof of funds.
The government has tightened the visa exemption privilege and visa on arrival to prevent abuse. Abuse of  the privilege include the so-called visa runs which some foreigners have been using to extend their stay by taking a bus to the border, checking out of the country and then returning the same day to have their visa exemption renewed. They used to repeat the practice as many times as they wanted, affording them almost unlimited stays in Thailand which was not acceptable for the government.