Overseas Thais Can Now Renew, Replace ID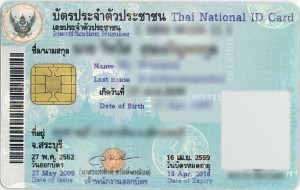 Thai citizens living abroad can now renew or replace stolen, damaged or lost Thai ID card overseas. Thailand is one of the countries who has devised a national identity card system. Before, Thai expats can only renew or replace Thai id card in their home country at the offices of Amphur in Thailand.
The Thai ID system serves as a certificate of citizenship. This identity card contains the "population identification code" which is assigned to each Thai citizen at birth or upon receiving citizenship. It is issued by the Department of Provincial Administration of the Ministry of Interior.
Each card has a code of 13-digit string in format:
x-xxxx-xxxxx-xx-x
The first digit would show the Type of citizenship
Second to Fourth digit would show the office where the number was issued
6th to 12th digit would be a group and sequence numbers
last digit – check digit
The whole population of Thai national is recorded and contained in a central database system. Each ID card contains electronic fingerprint and facial image data which serves as the citizen's record. The ID card system is issued by the government, controlled and maintained by the Interior Ministry.
In the event that the national ID card has been stolen, damaged or expired, it can now be replaced at Thai Consulates and Embassies of the Thai citizen's country of residence making it more accessible for Thai nationals living overseas. Royal Thai Consulates and Thai Embassies in Sydney, Singapore, Berlin, Taipei, Los Angeles, and New York are ready to implement this.
Only in the event that you will be securing your Thai ID for the first time, it can only be submitted and processed in Thailand, so for first time applications there is still a need to process it back home.