How to Travel Without Quarantine in Thailand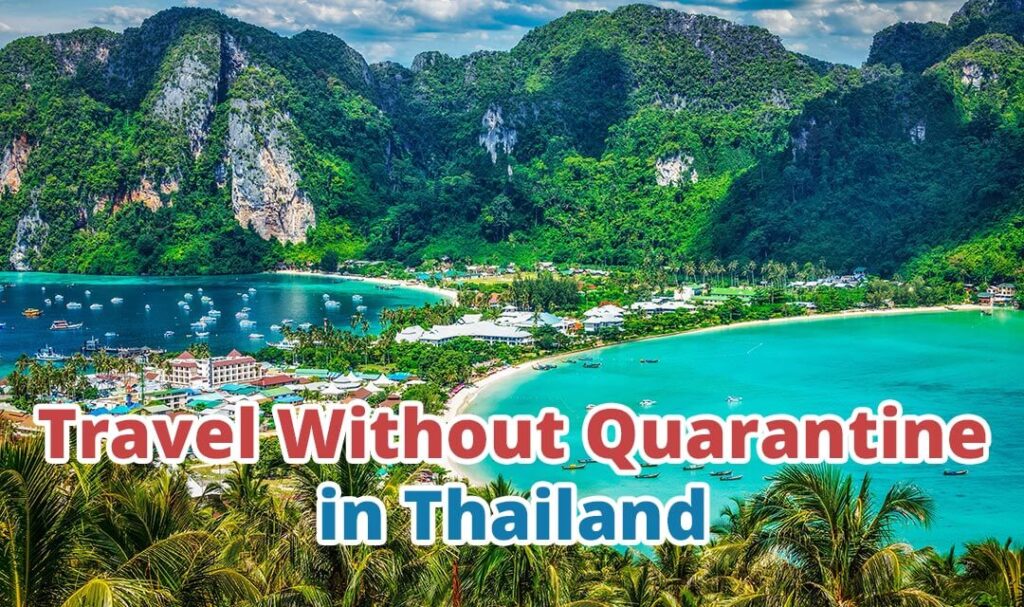 Many foreign nationals right now would hope for a travel destination that does not give you much stress and just rather relax and enjoy. But with COVID-19's presence, it would feel like it is impossible.
However, there is an option of where you can travel where there is no mandatory quarantine. Thailand is one of the top destinations in Southeast Asia that recently opened its borders and offered no quarantine to its visitors.
There are things that you should take note of before hopping on a plane:
Know that not any or random traveler is eligible for quarantine-free travel to Thailand.
Know that the Thai government still has requirements to enter Thailand.
Know that quarantine-free travel to Thailand does not mean you could just fly to Thailand and go to any place that you would love to visit. There are still guidelines to follow.
Test & Go: Quarantine-Free Entry Thailand
Know that not any random travelers have the privilege to have quarantine-free travel to Thailand. There are specific travelers of Thailand who are given the privilege to have a quarantine-free arrival.
To travel to Thailand and Stay Without Quarantine
Travelers who will travel by air from approved countries of Thailand must be fully vaccinated.
Here are the approved countries or low-risk countries by Thailand:
Australia
Austria
Bahrain
Belgium
Bhutan
Brunei Darussalam
Bulgaria
Cambodia
Canada
Chile
China
Croatia
Cyprus
Czech Republic
Denmark
Estonia
Finland
France
Germany
Greece
Hungary
Iceland
India
Indonesia
Ireland
Israel
Italy
Japan
Kuwait
Laos
Latvia
Lithuania
Luxembourg
Malaysia
Maldives
Malta
Mongolia
Myanmar
Nepal
The Netherlands
New Zealand
Norway
Oman
Philippines
Poland
​​Portugal
Qatar
Romania
Saudi Arabia
Singapore
Slovak Republic
Slovenia
Sri Lanka
South Korea
Spain
Sweden
Switzerland
United Arab Emirates
United Kingdom
United States
Vietnam
Hong Kong
Taiwan
As mentioned earlier, to be granted quarantine-free or quarantine exemption upon arrival in Thailand, you must also fly from the approved country of yours to Thailand, and must be fully vaccinated (within 14 days before the travel date)
Requirements for a Quarantine-Free Travel to Thailand
Aside from offering quarantine-free travel to its vaccinated travelers from approved countries, the Thai government is also making it more convenient for its travelers to enter Thailand.
Here are the requirements for quarantine-free travel to Thailand:
Thailand Pass QR Code
Instead of applying for a Certificate of Entry, you will have to apply for Thailand Pass to receive a QR Code. This Thailand pass will require you to fill in the necessary details and upload documents digitally.
To know more about the new online system, read the Thailand Pass page.
Medical Certificate for COVID-19 Test Result or for Recovery from COVID-19
A medical certificate for a COVID-19 Test result is needed for you to travel to Thailand, you will need a negative result of the COVID-19 through the method of RT-PCR test. The result shall be issued only within 72 hours before your travel date.
A medical certificate for Recovery from COVID-19 is needed if you have shown a positive result from the COVID-19 before and you have recovered from it. The certificate for recovery result must indicate that they have recovered from COVID-19 within 3 months.
COVID-19 Insurance Policy
The required minimum coverage has decreased to $50,000 instead of $100,000. The insurance, like before, shall cover all COVID-19 related incidents in case you have contracted COVID-19 during your stay in Thailand.
You may get your COVID insurance policy here: https://u.axa.co.th/Sawasdee_Siamlegal

AQ Facilities or SHA+ Payment Confirmation
It is important to book approved hotels for safety during your stay in Thailand.
You will have to book the hotel for at least 1 night, and the payment of your booked hotel shall include an:
o RT-PCR Test which will be used upon your arrival.
o Antigen Test Kit (ATK), a self-test kit, which you will receive upon leaving your booked hotel for you to test yourself on the 6th or 7th day of your stay in Thailand. Or to test yourself once experiencing COVID-19 symptoms after leaving the booked hotel.
Vaccination Certificate
The vaccine must be approved vaccine by the Thai Ministry of Public Health (MoPH) or by the World Health Organization.
Children under the age of 12 do not have to be vaccinated but shall have parents or guardians that are vaccinated. A medical certificate with a negative result will be good.
Test Before Go or Test and Go
Know that quarantine-free travel to Thailand does not mean you could just fly to Thailand and go to any place that you would love to visit, there are still guidelines to follow.
To help you get an idea of what you should do as a traveler who is aiming to travel without quarantine in Thailand, here are the guidelines:
Apply for a Thailand Pass and gather all the requirements that were mentioned above.
Upon arrival in an international airport in Thailand, you will be subjected to entry, health screening, and immigration procedures. And you will submit all required documents mentioned above to staff or officials.
After that, you will be transferred to your booked hotel. Upon arrival in the hotel, you will be tested for the COVID-19 RT-PCR test that was included in your prepayment and wait for at least a day.
While waiting, hotel staff will request you to download MorChana.
If tested negative, that is when you are allowed to travel to other destinations in Thailand.
Upon leaving the hotel premises, they will give you an Antigen Test Kit (ATK), a self-test kit for you to use if you are experiencing symptoms or if not, you will use it on the 6th or 7th day of your stay in Thailand.
After using the ATK, the result shall be sent to or shown to the hotel staff that you once stayed and record the result on the MorChana App that you downloaded.
If tested received a negative from the ATK, you can continue traveling to other destinations in Thailand.
Blue Zones for Unapproved Countries yet Vaccinated Travelers
Travelers who came from outside the listed approved countries are still allowed to enter the Thailand Blue Zones, but with mandatory quarantine.
Travelers entering the Blue Zones are only required to stay for 7 days and are given a wide option to choose where they want to stay.
The Blue Zones are provinces recognized as places that have completed at least 70% mass immunization and are ready to welcome international travelers.
Here is the list of Blue Zones that you can choose to stay in including the 4 Sandbox locations:
Bangkok
Krabi
Chon Buri (Banglamung, Pattaya, Si Racha, Ko Si Chang, and Sattahip – Na Jomtien and Bang Sarey)
Chiang Mai (Mueang, Doi Tao, Mae Rim, and Mae Taeng)
Trat (Ko Chang)
Buri Ram (Mueang)
Prachuap Khiri Khan (Hua Hin and Nong Kae)
Phang-Nga
Phetchaburi (Cha-Am)
Phuket
Ranong (Ko Phayam)
Rayong (Ko Samet)
Loei (Chiang Khan)
Samut Prakan (Suvarnabhumi Airport)
Surat Thani (Ko Samui, Ko Pha-ngan, and Ko Tao)
Nong Khai (Mueang, Sangkhom, Si Chiang Mai, and Tha Bo)
Udon Thani (Mueang, Ban Dung, Kumphawapi, Na Yung, Nong Han, and Prachaksinlapakhom)
Alternative State Quarantine (ASQ) for the Unvaccinated
Those unvaccinated travelers are still allowed to enter Thailand but unfortunately, unlike the vaccinated travelers, they are subject to mandatory quarantine for 10 days or 14 days, if traveling by sea or land.
Thailand Open for All
By opening Thailand for all, regardless of the vaccination status, also means opening opportunities for Thailand to gain what was lost. The Thai authorities have high hopes in saving the economic downturn since the COVID-19 pandemic had started.